If you have been looking for a way to have more cash flow with minimal outlay, wholesale properties might be your answer.
Becoming a real estate wholesaler does not require a lot of money, but it requires time, effort, and determination. Beginners can learn quickly with the proper support, and you won't have to wait long to start turning a profit.
Are you intrigued? Let's find out more!
Schedule Your
FREE 30-Minute
Call With One of
Our Land Experts
to Find Out
If Land Flipping is
Right For you
When It's Time To Consider A New Income Stream From Real Estate Investment
Are you feeling burned out from your current career? Are you no longer passionate about your job?
Trying to climb the corporate ladder at a company which may no longer share your values can be both mentally and physically exhausting. Worst of all, that job saps time from your personal life when you could be putting that overtime to better use.
Now could be the time to consider a new income stream from real estate investment.
"Side hustle" feels like the hottest buzzword for people looking to generate passive income fast to escape the corporate grind and ever-increasing squeeze of inflation.
Often, a "side hustle" may not pan out because many methods result in headaches or investment loss. If you have tried your hand at drop shipping or individual stocks, cryptocurrencies, and NFTs, you have probably felt the sting of that pain already.
There is, however, a way to start investing without taking high-stakes risks with your money or working 40 hours a week on a side hustle. The answer is wholesale real estate using raw land as an asset class.
Wholesale real estate with land as your primary asset class does not require a lot of complicated admin, time, or excessive working capital.
When starting any business, though, it is essential to make sure that you are doing your research and understand the investment's scope.
What is Wholesale Real Estate?

The business model for wholesale real estate investing using land as your primary asset class is simple. First, you find a property, secure the option to purchase it with the seller, then find a buyer for the property.
That is all there is to the wholesale process. Simple, right?
The wholesaler selling the property (you) contracts the property with the buyer at a higher price than you paid for it. And the difference is your profit.
It is one of the best and easiest ways to break into the real estate industry.
As a wholesaler, you look for unmotivated sellers and/or distressed properties. In other words, the owners are wasting money on property taxes year after year, but they have not yet committed to selling. With the proper amount of research, you could come along at just the right time to take it off their hands for 10 – 15% of the potential market value.
If you would like to find out more about the Land Profit Generator method, register to attend our upcoming training event by clicking the button below.
How Does Real Estate Wholesaling Work?
A wholesaler earns profit through a "wholesaling fee," which is attached to the final transaction. The wholesaling fee is usually a percentage of the final deal price.
Wholesalers generate income by helping realtors identify and close potential deals.  Wholesalers do this by locating and contacting sellers of undervalued or distressed properties, then negotiate a contract to buy the right to purchase the property at a discount. A large part of the process is to market these deals to buyers looking for land lots for various purposes.
In some cases, wholesalers will partner with other investors looking for deals that fit their buying criteria. This is beneficial for Wholesalers because it gives them access to more potential deals, allowing them to move on to the next deal quicker.
Best yet, you need neither a real estate license to be a Wholesaler.
If you have the drive, you can become a real estate investor.
Schedule Your
FREE 30-Minute
Call With One of
Our Land Experts
to Find Out
If Land Flipping is
Right For you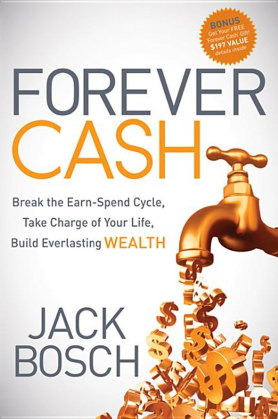 Download your FREE copy of the Forever Cash e-book, by Jack Bosch
How Do You Become a Real Estate Wholesaler?
What Are The Benefits Of Wholesale Real Estate?
Wholesaling using raw land as your primary asset class is a short-term investment strategy and an effective entry-level approach into real estate investing.
It requires minimal capital to get started and provides beginner experience in real estate market trends and contract negotiation. As such, operating with a low cash flow will not hold the seller back because there are fewer assets to risk in the transaction.
As the wholesaler of land lots, you do not have to undergo credit checks or the underwriting process from a bank, since you sell the purchase contract directly to the end buyer.
Another crucial benefit? There are no headaches from tenants, no rental contracts to enforce, no repair work to buildings, and no infrastructure improvements on the property.
Plus it can be done completely from the comfort of your home!
Cons Of WholeSale
Of course there are potential downsides to developing a wholesale real estate business using land as your primary asset class.
The income is only as steady as how much time you are willing to invest.
It can be challenging to find the right buyers if you do not know how to implement a specialized marketing strategy.
You have to have the systems and processes in place to be able to scale your wholesale business to do a high volume of deals.
The good news is that obstacles are only as limiting as you allow let them be.
HOW TO TURN THE CONS INTO PROS
Unlike in a salaried job, starting your own business may mean that your income is not as predictable.
You might end up making MORE than what you would in a salaried job. You CAN create stable passive income with land – if you know-how!
Generating leads can be challenging if you don't have the right systems and support in place.
If you invest in Land Profit Coaching, you can quickly learn how to create a lead-generating system that works reliably.
It can be difficult finding buyers without a solid buyers list and insight into how to market your product.
When you register for Coaching with the Land Profit Generator, you will learn how to build a buyer's list and all the resources you need to market your properties.
You have to be very self-motivated and tenacious, as it is easy to become discouraged if you don't see immediate results.
The Land Profit Coaching Program ensures that students get 360-degree support every step of the way – including a personal accountability coach for up to a year.
Do You Need Specific Qualifications To Become A Real Estate Wholesaler?
No. You do not need a specific qualification to do wholesale deals, and you do not have to be a real estate agent!
You should, however, invest in a reputable real estate coaching program which is designed specifically for wholesale real estate investors. While some people have managed to establish successful wholesale real estate businesses on their own, it takes longer, and most make easily avoided and costly mistakes in the journey.
The Land Profit Generator Coaching Program can help you avoid costly mistakes and put you on the correct path to developing a streamlined, agile, and profitable business.
The Land Profit Coaching Program is the most comprehensive coaching program on the market. The programn is designed to take you through the first year of your business to ensure you have a everything you need start and scale your wholesale real estate business, specializing in land flipping.
How Land Profit Generator Can Help You Start A Wholesaling Business Without The Headaches By Focusing On Just The Land
With a simplified process you can start your wholesaling business without making the common mistakes which plague many new businesses.
Our comprehensive coaching program will guide you every step of the way.
We are the top brand in Land Flipping and have the systems and software already in place to help you be efficient with your time, and maximize your cash flow.
About Us
Jack and Michelle Bosch are the co-creators of The Land Profit Generator Method. The Land Profit Generator has produced a record number of successful land flipping business owners. In addition, the LPG team offers the most comprehensive Land Investing Coaching Program in existence.