When starting their land investing businesses, one of the first questions people ask is 'how do I value my property?' Knowing what a property is worth is critical to the deal-making process as a land flipper. When looking for lots to purchase, you want to buy land well below market value. You want to receive offers closer to market value when you sell your land. This is to ensure there is enough profit in the deal to cover your costs and grow your wealth. If you cannot accurately establish how much your land is worth, you could end up losing money on your land deals.
One might think that it's easier to value a vacant land lot because there are no structures on the parcel, but the opposite is actually true. Fortunately, you can use several indicators to establish the market value of your land, and we are going to unpack them here.
What are the factors affecting the valuation of property?
The fair market value of a property refers to the estimated price to which a knowledgeable, interested buyer and seller would agree. The fair market value is only an estimate and is somewhat subjective. Your responsibility is to do your due diligence on the land you're looking to buy to establish a fair and reasonable market value. There are a number of factors that you will need to assess to determine how much your land is worth. Factors that you should include in your due diligence include:
        Property size
        Location
        Zoning
        Comparable-property valuation
        Development potential
        Supply and demand in the area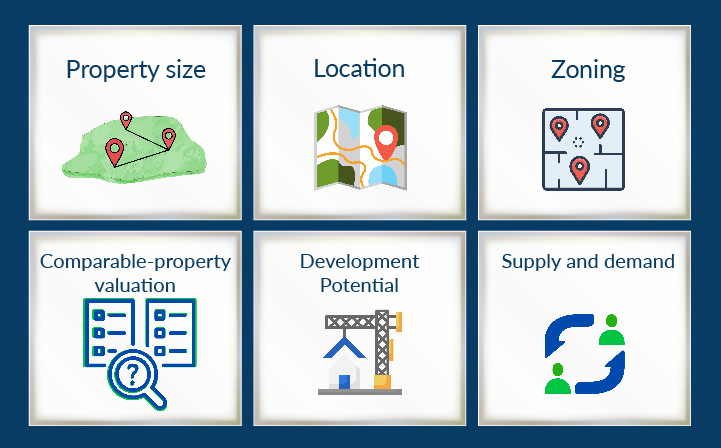 These measures, in isolation, will not tell you how much your property is worth. Rather, you will need to consider all these points together to come to a reasonable valuation that you can justify to potential buyers and sellers.
Understand every inch of your lot with a formal survey
One of the first and most important questions you need to ask is 'how much land do I have to sell?' You can get a fair estimation of land size using tools such as Google Earth, but the most accurate way to get information about your vacant land lot is to do a formal survey.
A formal survey will tell you the exact size of your land lot. You'll also be able to find out about the buildability (or development potential) of a parcel, which directly affects the fair market value. You will also want to find out if the lot can be connected to infrastructures such as piped water and the power grid and if there is road access to the property. A landlocked property will be worth a lot less than a property with direct road access. Once you have this basic knowledge about a property, you can move on to the next factor that you want to consider, which is location.
Why is the location of land important?
If you are an experienced real estate investor, you will know that the adage "location, location, location" is as relevant now as it was a hundred years ago. Where your property is situated is one of the most important factors to consider when finding out how much your land is worth.
Land in highly developed areas, such as an infill lot in the city, will be worth a lot more than a huge property in a rural area. Undeveloped lots that are on a path of growth will also be a lot more valuable. Builders and developers are always looking for land on the outskirts of growing towns and cities. When the population in a city or town starts to grow, developers can build on these lots to provide new housing and retail spaces for growing populations. Buying land in the path of growth is a very good strategy as a land investor because you will be able to buy low and sell to developers who understand the future potential of the lot.
Schedule Your
FREE 30-Minute
Call With One of
Our Land Experts
to Find Out
If Land Flipping is
Right For you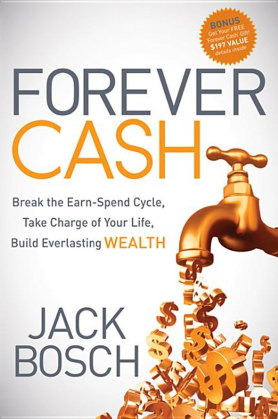 Download your FREE copy of the Forever Cash e-book, by Jack Bosch
How is my property zoned?
Zoning is the process that town planners use to separate districts, or zones, that determine how developers can use land. The idea behind zoning is that city planners need to play an oversight role in organizing our urban spaces. Zoning regulates the kinds of activities permitted on a particular piece of land. Zoning is used to stabilize property values and ensure that new development does not harm residents or activities in the established surroundings. For example, you cannot build a noisy factory in an area zoned for single-family homes.
When trying to find out what your land is worth, it is essential to determine how your lot is zoned, as it will directly impact how a potential buyer can use it. There are many ways to identify the zoning of a particular piece of land. In most cases, this information is easy to access online by searching city or county ordinances to find the allowed uses for your property.
Comparable properties value: your best friend or worst enemy
In the traditional real estate market, one of the most common methods used to establish fair market value is to look at what similar houses in the area have sold for in the last year or two. This method is often referred to as comps-based valuation. You can use a similar approach when it comes to land lots. However, the trick is to ensure that the properties you select are a fair comparison to the lot you are interested in.
When it comes to land, two adjacent lots may not have a comparable market value. One lot may have direct road access, and the other may be landlocked. One piece of land may have buildable topography, while the lot next door may be on a steep slope, making building more difficult. Land also tends to change hands a lot slower than houses, and therefore you may struggle to find comparable lots in the area that have changed hands in the past decade. The more recent your comps are, the more accurate, and therefore this information may not help with current market value. Therefore, you mustn't rely on comps-based valuation alone when determining the fair market value of a land lot.
What Is The Highest And Best Use Of Your Vacant Land?
One of the most important differences between traditional real estate assets and vacant land is that the value of your land lies in potential rather than what is physically there. Two different pieces of land can have vastly different values depending on their possible usage. A parcel zoned for commercial development that could be used for a high-rise building could be worth hundreds of thousands of dollars, and property zoned for a park may be worth only a few hundred dollars. When you sell a land lot, you want to target buyers that will put the land to its highest and most profitable use.
Fortunately, there is a lot that you can do to increase the desirability of your land lot if you have the right information. If your land lot is on the outskirts of an urban area that is rapidly growing, you will be able to buy low and then sell on to a developer that will be able to build houses or retail developments when the time is right. While zoning is highly regulated, it is also possible to apply to have an undeveloped lot rezoned to be put to more profitable use. If you are interested in exploring these options, you will need to work closely with a land-use attorney.
Less is more: how much land is on the market and is that hurting or helping your value
The value of a commodity will always be determined by the principle of supply and demand. When demand for an asset is high, and supply is scarce, the value will increase. On the other hand, if there is a lot of a particular asset available, but it is not in high demand, prices will go down.
Land lots are, obviously, subject to the same principles. If there is a lot of land in a particular county up for sale, you may not get market value for the land as a buyer can reject your offer and buy another, a comparable lot at a lower price. However, land tends to change hands at a lot slower rate than houses. A family may hold the title for a piece of vacant land for generations before considering selling it. Suppose the area has been stagnant for a long time. However, if a new industry springs up in a city or town in the area, bringing growth and development, land that was not is demand suddenly has potential value to developers and builders. In this instance, you may see a lot of land on the market in the area, but it will still be gaining in value and may offer a good investment opportunity. It is essential to know the supply and demand for land in the area around your prospective land lot for you to get an accurate idea of its fair market value.
Rely on the expertise of experts when valuing your land
When trying to establish the fair market value of a land lot, the rule is that the more information you have, the better. Make sure that you do your due diligence as thoroughly as possible. Once you have all of the necessary information at your disposal, you need to use your best, most unbiased judgment to assign a value to your land lot. Valuing properties is one of the essential skills you will need to develop to be a successful land flipper.
When you're doing your first few deals, getting the property valuation wrong is one of the most common mistakes that people make. The best way around this is to get a coach or mentor that will be able to guide you as you develop your ability to judge a property's value. The Land Profit Generator offers the most established, comprehensive, and successful land flipping coaching program globally. If you feel out of your depth when trying to establish the fair market value of your property accurately, reach out to one of our land experts to ask for advice.
rEADY tO sTART A
LAND FLIPING BUSINESS?
If you need more help learning the ins and outs of land flipping, you can start on the right path of becoming a land flipping professional by utilizing any one of the many free tools we offer:
Join us for one of many virtual events we hold throughout the year. We discuss new strategies, the latest trends, and help coach you to your best success.
Keep track of the latest trends by following Land Profit Generators' free podcasts.
Land flipping insights on our blogs.
About Us
Jack and Michelle Bosch are the co-creators of The Land Profit Generator Method. The Land Profit Generator has produced a record number of successful land flipping business owners. In addition, the LPG team offers the most comprehensive Land Investing Coaching Program in existence.