Event Dates: October 1st, 2nd, and 3rd, 2021
Event Location: Phoenix, Arizona
Act Now Limited Seating
0

days

0

Hours

0

Minutes

0

Seconds
From the desk of Jack Bosch
Sunny Phoenix, AZ
Dear Friend,
I'll get right to the point.
If you're on this page, then you may know a little about me and my story...
How I went from working 60+ hours in a job that kept me away from my family all week to becoming a stay-at-home millionaire in just 18 months, flipping simple Land and Lot deals for huge profits.
And you might have heard also that I continue this business to this day, only now having also added, houses, tax liens, tax deeds, and even entire apartment buildings to my tool belt.
But even though I now also do more complex real estate, or perhaps better said, BECAUSE I now also do more complex real estate transactions, I am loving my Land and Lot deal method just as much (or even more) than ever before.
Because in the market we are in right now, where house investors are having to mail 5000 letters and still often don't get a deal, we are continuing with our proven low to no-competition methods of cherry picking the best $10,000 to $100,000 vacant lots and land for just 5-25% of market value and then wholesaling them for great profits (often 2-3 times what we bought the properties for) or sell them with seller carryback financing for long lasting 100% passive cash flow... and even greater profits (sometimes 10x profits)...
All WITHOUT the hassles of traditional house investments, namely without:
Tenants
Toilets
Repairs
Termites
Contractors
Inspectors and Appraisers
Mortgages
Red tape
...
As a result, today, while I have expanded my dealings, I continue operating a highly successful land and lot flipping and seller financing business and my company continues to buy and sell properties every day - generating cash flow for years to come.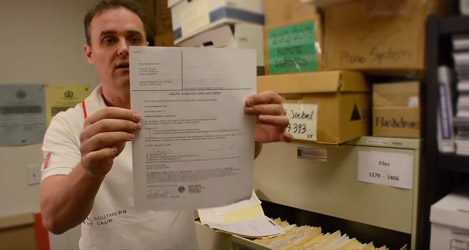 But this letter isn't about me...
What Real People Are Saying About Land Profit Generator Live!
---
Let's Talk About How You Can Create Financial Independence and long lasting Cash Flow From Highly Attractive Lots and Land In Today's Market By Simply Copy & Pasting What I Do In My Business Today.
This message is an invitation to you.
I've trained thousands of people all across North America (and around the world) to buy and sell lots and land for big profits using the exact...
5 Real Estate Money Machines That I use in my business daily.
There are a few little-known ways that work especially well in today's real estate market that are proven to attract streams of cash to your bank account like a magnet.
I know that sounds "hype-y" but there's really no better way to explain how effective and simple these methods are.
It doesn't matter where you are now, how much money you have currently, what your credit looks like, what you do for work, or if you have any experience...
Just look at these example just posted a few weeks ago, on Facebook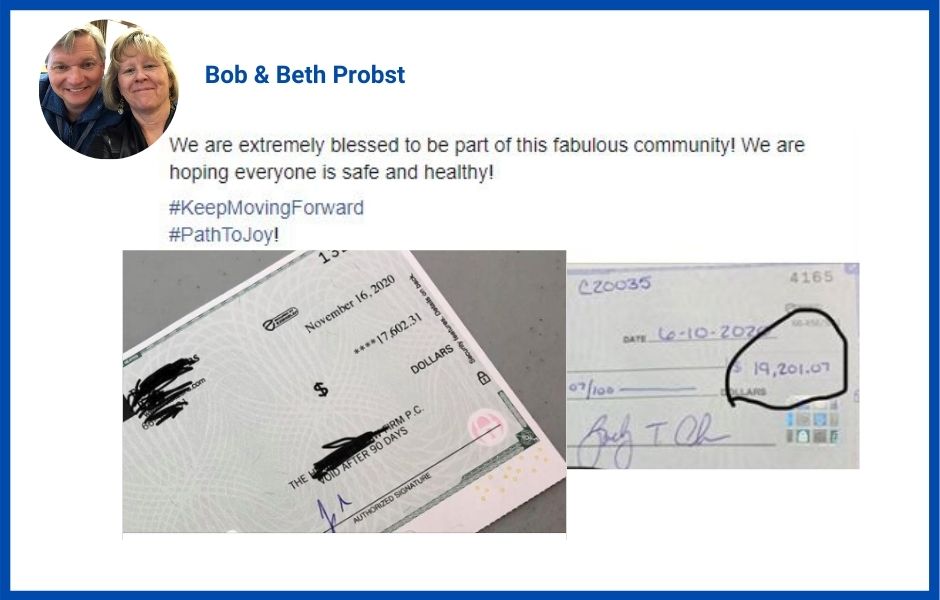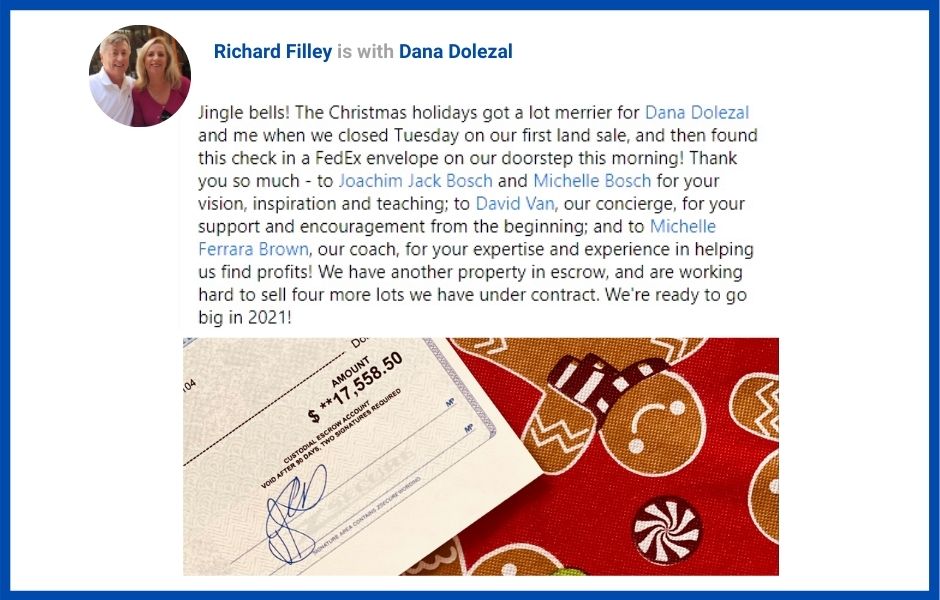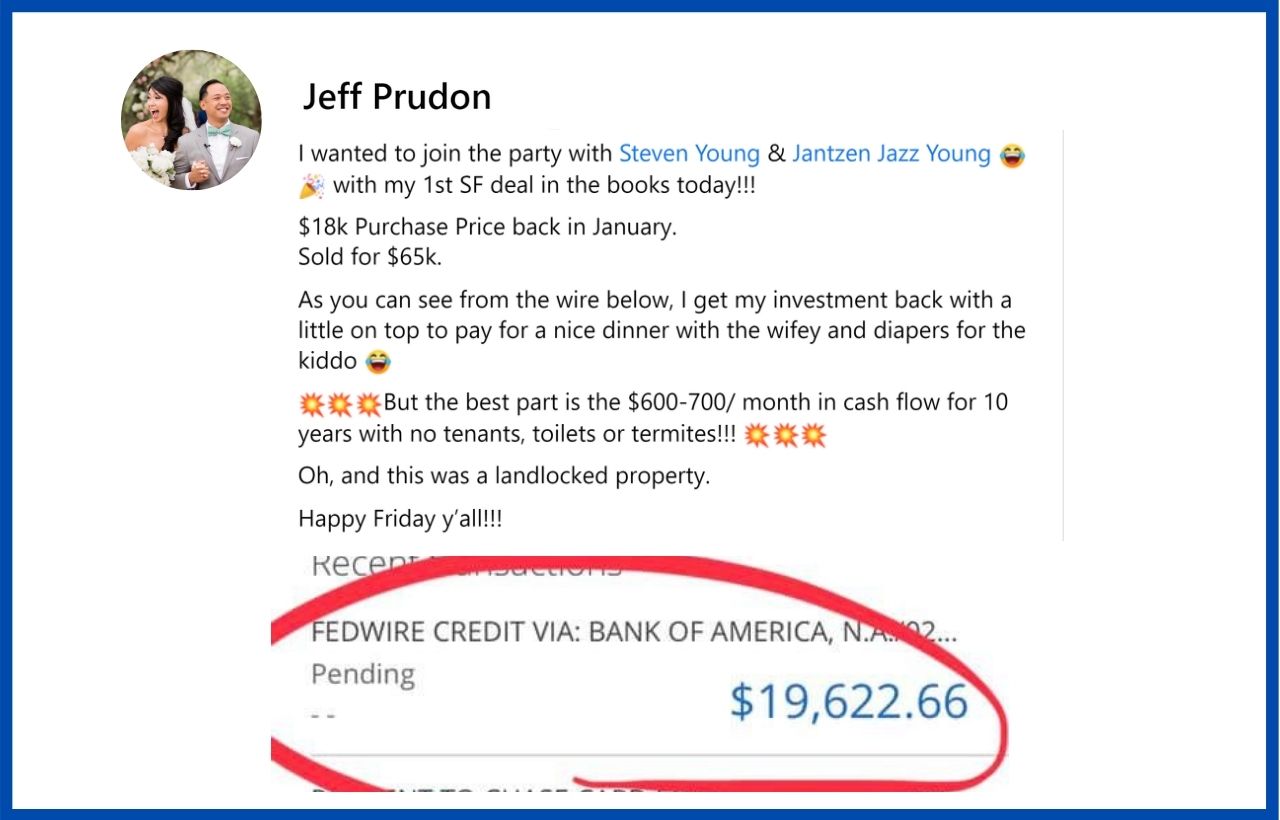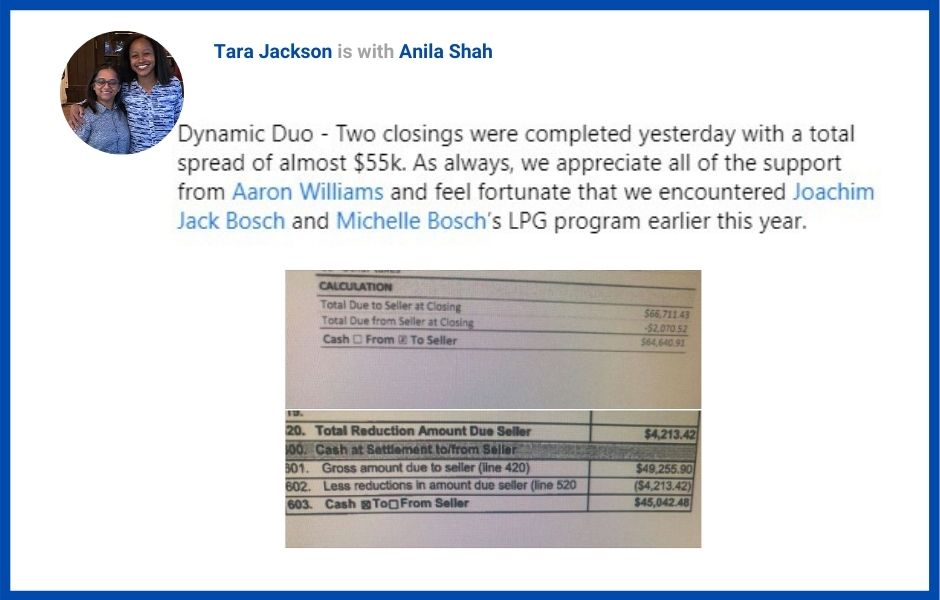 Here's what this is all about.
I'm holding a 3-day event.
It's Called...
It's a 100% teaching event with my team and I...
So, it's not a carnival of speakers pitching their wares.
And I'll take you by the hand and walk you through my FULL land and lot flipping technique in detail as well as a couple of additional, closely related and proven methods for investing in real estate the simple way.
I say simple - because all strategies really are simple.
Once you know the secrets.
(I'll get into that in a moment.)
Limited Seating
REGISTER NOW!
Whether you have already gone through the Land Profit Generator program and have done deals already, or if you have zero previous real estate experience, you will be equally wowed at this event.
Just look at what Meg Brockett said about having attended the event after already being up and running and having done a bunch of deals.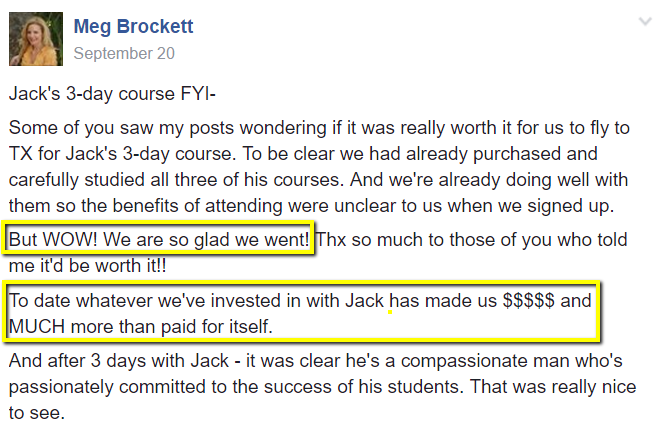 Anyone who is interested in creating lasting wealth and lifestyle freedom through real estate investing should register and attend this amazing 3-day program.
During these 3-days I'll be walking you through ALL the steps of the program – in Detail
You'll have all the resources, training, support, knowledge and tools at your disposal to walk away and start making real money in real estate.
In addition, I will expose you to 3 more closely related techniques in the same area that will not only blow your mind, but also will open the door to an entire additional HUGE pool of off-market properties around the US that you can tap into, literally doubling or tripling the amount of deals you can do even in your own backyard.
Plus, if you are an experienced investor, I guarantee you that you will want to literally abandon what you are doing right now, and just start doing what we do here.
Because why would anyone want to either get started or continue doing deals in a high and fierce competition, high complexity, high dollar, fast pace, high stress environment, ...
If you could also do the same caliber deals with similar real USD profits ($5,0000, $10,000, $20,000 or even if you focus on them, $50,000 to $100,000 profits...)
Without having to:
Look at a property
Estimate repairs
Deal with tenants
Deal with crews and contractors
Deal with banks or any kind of financing
Worry about where the market is heading
Face much competition at all (and in many cases no competition)
Mail 10,000 letters to get a deal...
...use any of your own capital
And at the same time...
Making $5K to $50K profit checks
Making offers only once a week (on your schedule not the sellers)
Buying properties for 5-25% of market value (= 75-95% discounts)
Applying the same wholesaling strategies as a the house people do (just simpler, because nobody needs to see the "inside" of your properties
And generating MASSIVE and TRULY PASSIVE cash flow
...That's my promise to you. Click here to register!
And if I don't deliver on the promise - you can call me out on it - in public – at the event.
REGISTER NOW!
---
This Event Is For YOU If:
You're overworked, over tired, over stressed - frustrated with your current financial situation and know you deserve more - then this is for you.
You want to build financial independence for you and your family so you can work less, make more, and enjoy life - then this is for you.
You want to create a nest egg for the future without having to fear to lose your life savings, so you can live in comfort (and style)... then you'll like what you're going to hear.
You can see yourself enjoying the luxuries in life like relaxing vacations, fine dinners, an upgraded lifestyle, new car ... all the things you've ever wanted... then here's your plan for achieving your dreams.
You want a way to take control, live on your own terms, "retire" on your own schedule, and be the person in charge of your own life... then this is the event for you.
You see... money doesn't buy happiness...
But money does make things a lot easier.
Register Here!
And I'm going to share with you...
The exact ways I use right now to create cash and cash flow from lots and land without stress or frustration... so you can enjoy the life and lifestyle you truly want and deserve!
Let me go into exactly what you'll learn...
Again, I focus mainly on my land and lot flipping method for generating Cash and Cash flow and lasting wealth but I also spend time on integrating 3 other closely related variations of my main technique, allowing you to double or triple the number of deals without really doing much more.
FRIDAY
AM
We will start by going over the foundation of our real estate investing technique, namely the basics of how and why this land and lot flipping technique works and how you quit your job (if you have one), finally break free from the complex house flipping methods (if that's what you are doing), and can reach financial independence with big checks and truly passive 10X profit CASH FLOW income in just a few months from now.
For that we will dive a bit into the foundation of Tax Delinquent Real Estate investing, - Tax Liens and Tax Deeds and how we circumvent all this high competition process to get similar or better deals without any of that competition.
PM
The entire Friday afternoon and evening is dedicated to our proprietary and very specific strategies for finding, securing, and flipping the best land deals.
You are going to learn...
How to choose the best areas to do this in (it could be your back yard, or any area across the country (did I mention you don't have to go see these properties – EVER),
How to get a list of the most motivated of all motivated sellers for your deals
How to separate these different leads from each other to clearly identify those you want to go after
We then finish the day with a special VIP cocktail party and possibly even the handing out of some awards to some of our most successful students (who often come back again and again to get a refresher, tune up and additional nuggets to take their business even a level higher)


SATURDAY
AM
On day 2, We will continue to go into more detail on how to find, lockdown, and flip these land and lot properties.
Plus we will show you how you can automate and organize almost all steps we talked about on Friday so that you are truly creating a scalable business where the sky is the limit.









PM
After lunch, I will expand into the other 3 related techniques namely...
Applying a variation of the Land and lot flipping technique on HOUSES
Doubling the results from your list by using options and assigning them for an instant profit (without using any cash our of your pocket)
One extra SECRET – brand new technique I call it REVERSE TAX LIEN INVESTING (which is a BRAND new technique that will make your mind spin in terms of both it's simplicity and it's effectiveness.)
SUNDAY
AM
Sunday is CASH FLOW and SALES DAY. During this crucial day I will dive head first into the top 5 ways to sell your properties easily and quickly using the internet without you knowing the first things about internet marketing.
No worries, this won't be a hard-core internet marketing session. Far from it, instead I will show you how you...
How to get and use pictures of the property without ever having seen the property
How to get people to give you the exact offer you want them to give you
How to make your property attractive to exactly the right kind of buyer
Use already existing Websites where up to 3M visitors per month already are looking for properties just like yours so you sell it lightning fast.
Plus you will discover multiple ways to build up a huge list of potential buyers for free or almost free so you are never going to be short of enough buyers for your properties.
PM
Finally, before we wrap up the event we go through some additional creative ideas on building a buyer's list and open the floor to any final questions.
I like to do my events interactive, meaning this is not just me teaching, and you taking notes, but during the entire event you will have a chance to ask any question you want all the time. I literally take questions anytime and answer them right there all day long while going through the program.
REGISTER YOUR SEAT NOW!
You can use any or all of what I share with you at this event... and walk away from the 3 days armed with the "how to and what to do next."
You'll be surprised at just how powerful all this is.
Powerful yet simple, because I've done all the hard work and trial and error putting everything into a proven process and system for you to take, copy, and paste into your life!
Book Now And SAVE!
REGISTER NOW!
Here are 7 reasons to attend my live event NOW instead of waiting until "next time"
1. I speak from experience.
I strive to produce a life changing experience that allows you to leave with real, actionable information that works. I will tell you what is working now and what has worked for me - it's not theories or "this might help you" stuff - it's real step by step knowledge backed by experience of over 4000+ deals since 2002.
2. Is NOT a Pitch Fest.
This event is not a sales event with a lineup of speakers like some of the other events you might have attended. Of course, my programs are available for sale during the event, but my main goal is to make sure that after the three days you spend with me you can go out and have all the knowledge you need to get deals done without our help.
3. It is NOT 3 days of old and outdated information:
Everything you'll hear is "What's Working Now" content that you can copy and paste into your own investing plan.
4. It is a weekend where all - novice and pro alike - can benefit.
I will try not to overwhelm you with information, but I can't promise that your head won't spin a few times during the session. That being said, I can promise that you'll never be bored!
5. You'll Take Your Game To The Next Level.
You probably already know that the secret to success is not just a matter of knowing tips and tricks - it also has to do with tapping into something from within. I will share my own experience as well as some of my friends and students to demonstrate how you can implement new strategies, and achieve amazing results, and find balance in business and life.
6. If you're an experienced investor, you'll feel right at home
I already talked about who this event is FOR - let me talk for a moment about who this event is NOT for: if you're on your last dime and treating this business as a last-gasp effort to avoid some horrible financial situation, then my hope is that the fee for this training will scare you away. It's not that I don't want to help you... it's just that you're not ready for this level of training yet. But when you are, I will be here for you.
7. Unprecedented ACCESS to me and my team.
Probably one of the biggest benefits that live events have over ebooks and home study courses is the ACCESS that you have to the expert. With live events, we're literally in the same room. If you have a question, you don't have to worry about emailing customer support and waiting to get an answer. You just ASK ME - ANY TIME during the event.
REGISTER YOUR SEAT NOW!
YES, You CAN Do This!
And It Works Right Now!
When you register now and attend Land Profit Generator Live you'll not only learn the "how to" you'll get the support to truly understand the how it all works and comes together.
You'll get the resources, tools, support, and connections for you to take the proven strategies that work right now and use them to your advantage. Register Your Seat Now!
Here's more of what we'll cover...
You'll get my exact marketing strategies to buy at deep, deep discounts (as little as $100-$3000 for properties worth 10-30 times as much).
You'll understand how I analyze deals for maximum profits and make offers so you keep more money, while reducing any risk to an absolute min (and in any case only to the few hundred dollars you are paying for a property – if you even buy it and don't just flip it without buying it first).
You'll see how I close on these properties quickly - without hassle so you can get paid faster!
You'll discover how to create massive passive cash flow from land!
You'll learn my process for getting paid upfront with big sums of cash, earn monthly income without hassles, build long term wealth!
We'll walk through live case studies of real deals so you see everything in simple "real life" terms.
You'll see what you can do to "scale" your monthly income in an entirely new way no one else teaches or does!
I'll even share how I use the internet to make money so you can create new streams of income!
And that's just scratching the surface.
You'll join me Friday, Saturday, and Sunday up-close and personal.
Again, no other speakers or distractions - just me sharing what I do right now that works!
It's my mission to give you the most value, education, knowledge, and...
A Real Life Blueprint To Take Action And Profit Right Now!
All-in-all, we'll build a metal suit of ARMOR around you and your financial future so you can feel secure, protected, and enjoy the finer things in life without worry.
You'll learn exactly what I do, no tricks, no smoke or mirrors, no-holds-barred.
I'm an open book to you...
But you have to join me.
So I know what you're thinking...
How Much?
Simple question, right?
Listen... some of the infomercial guys on television would charge you $5,000,$10,000, even $20,000 for an event not even half as good and detail rich, and exciting as this one.
Instead after just attending this event alone, many of my attendees walk away from this training and go do multiple transactions with profits of $10,000 to $50,000 EACH.
And I know you will be able to do the same!
So what would the 3 days be worth to you?
Easily at least $10,000 - after all - that could be the minimum you make.
Let's say you made an extra $10,000 5 times in the upcoming YEAR from these simple deals.
That's $50,000.
Is that too much? After all it's just a fraction what
some of the examples mentioned here have made in their first year.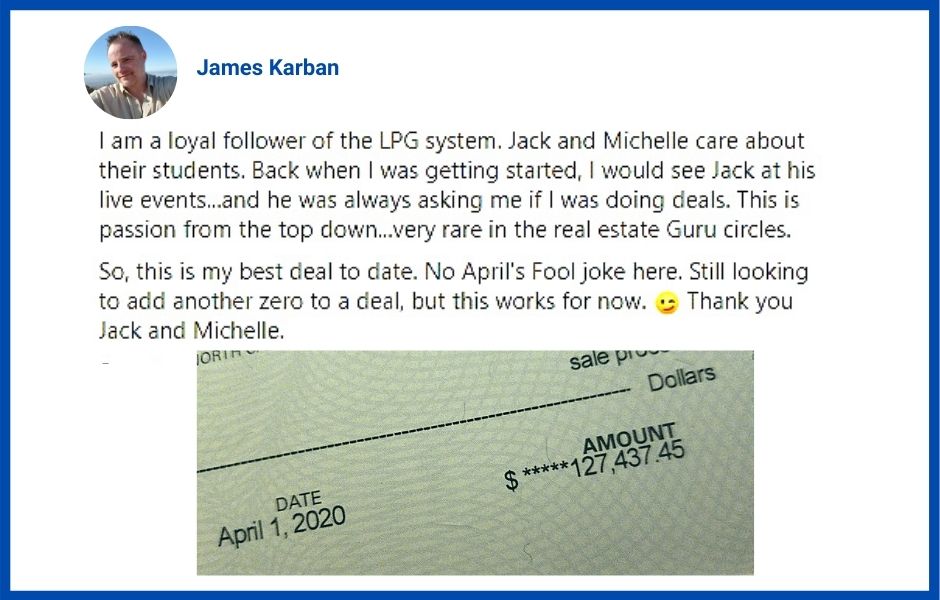 OK...
This event is NOT $50,000...
Or $25,000....
Or event $1,000.
But believe me, it's worth every penny.
---
Your investment today
is only $497 .

Here's How You Register...
To Take Action Now go ahead and click the big green button on this page.
It'll take you to a secure reservation form to reserve your seat.
Go ahead and click here to take action.
You'll get access to all 3-days of this intensive training...
And it's 100% proven - so you have nothing to lose!
Space for this event is limited, take action now.
Register for our next event here...
Event Name: Land Profit Generator Live - Phoenix October 2021
Event Dates: October 1st, 2nd, and 3rd 2021
Where: Phoenix, Arizona
Choose your tickets...
OR

VIP Tickets Include:
VIP - Front & Center Seating (Limited)
VIP - Exclusive cocktail hour with Jack and Team
Land Profit Generator Live - Goodie Bag
Land Profit Live VIP Zoom Orientation - September 27th, 2021 4pm PDT
Before you make your decision to join me now... I want you to think...
Where else would you have the opportunity to have a millionaire investor give you his exact formula of how he actively makes money right now?
This is a rare opportunity.
Do you want to pass this up?
Click here and reserve your seat now.
To your success,

Event Ticket Return Policy:
Tickets Sales:

Refund request must be made by submitting the return request form at www.returnjacksstuff.com within 30 calendar days prior to the event date.
VIP Live Event Tickets are Non-Refundable.

Questions: For additional questions please contact our office (602) 712-0182